'23 Tippy Cottage Tour, Luau Brought Together Hundreds for Fun & Fundraising
Tuesday, August 1, 2023
Posted by: TWF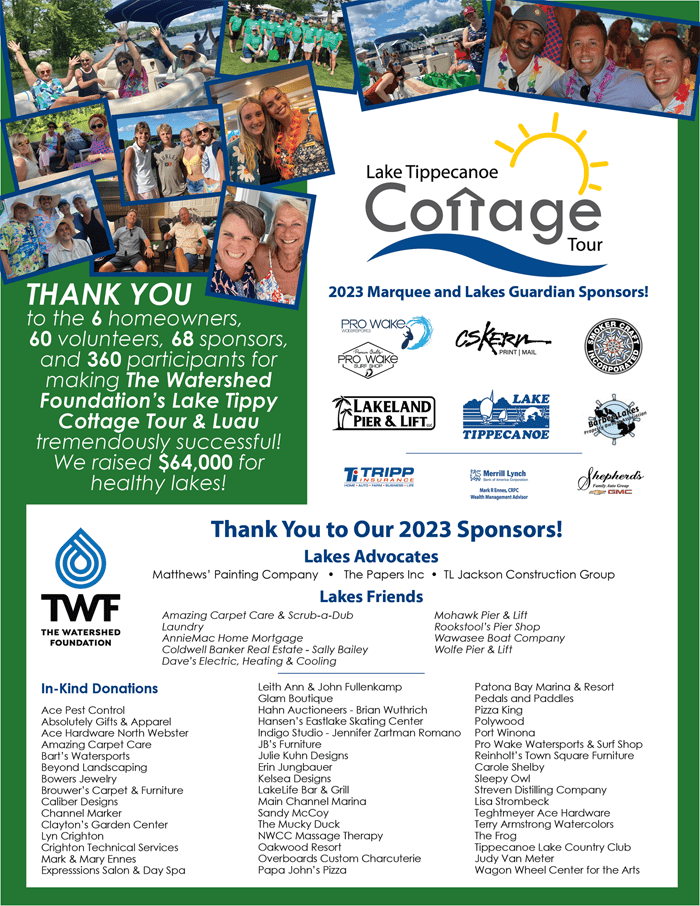 The Watershed Foundation says THANKS to the 6 homeowners, 60 volunteers, 68 sponsors, and 360 participants for making The Watershed Foundation's Lake Tippy Cottage Tour tremendously successful!
Our guests enjoyed a delightful evening of music, great food, fun and lots of laughter with friends at Tippecanoe Lake Country Club. Live and silent auctions throughout the evening added to the upbeat atmosphere.
The final result is a net profit of $64,000 to protect and improve water quality in our beautiful lakes.
Thank you to our 2023 MARQUEE sponsors:
Barbee Lakes Property Owners Association, CS Kern, Lake Tippecanoe Property Owners, Lakeland Pier & Lift, ProWake Motorsports, Smokercraft Incorporated.
Thank you to our LAKES GUARDIANS sponsors:
Merrill Lynch – Mark R Ennes, CRPC Wealth Management Advisor, Shepherd's Family Auto Group, Tripp Insurance.
Thank you to our LAKES ADVOCATES sponsors:
Matthews' Painting Company, The Papers Inc, TL Jackson Construction Group.
Thank you to our LAKES FRIENDS sponsors:
Amazing Carpet Care & Scrub-a-Dub Laundry, AnnieMac Home Mortgage, Coldwell Banker Real Estate – Sally Bailey, Dave's Electric, Heating & Cooling, Mohawk Pier & Lift, Rookstool's Pier Shop, Wawasee Boat Company, Wolfe Pier & Lift.
Thank you to our IN-KIND donors:
Ace Pest Control, Absolutely Gifts & Apparel, Ace Hardware North Webster, Amazing Carpet Care, Bart's Watersports, Beyond Landscaping, Bowers Jewelry, Brouwer's Carpet & Furniture, Caliber Designs, Channel Marker, Clayton's Garden Center, Lyn Crighton, Crighton Technical Services, Mark & Mary Ennes, Expresssions Salon & Day Spa, Leith Ann & John Fullenkamp, Glam Boutique, Hahn Auctioneers – Brian Wuthrich, Hansen's Eastlake Skating Center, Indigo Studio – Jennifer Zartman Romano ( jzart.art ), JB's Furniture, Julie Kuhn Designs, Erin Jungbauer, Kelsea Designs, LakeLife Bar & Grill, Main Channel Marina, Sandy McCoy, The Mucky Duck, NWCC Massage Therapy, Oakwood Resort, Overboards Custom Charcuterie, Papa John's Pizza, Patona Bay Marina & Resort, Pedals and Paddles, Pizza King, Polywood, Port Winona, Pro Wake Watersports & Surf Shop, Reinholt's Town Square Furniture, Carole Shelby, Sleepy Owl, Streven Distilling Company, Lisa Strombeck, Teghtmeyer Ace Hardware, Terry Armstrong Watercolors, The Frog, Tippecanoe Lake Country Club, Judy Van Meter, Wagon Wheel Center for the Arts.