Green Infrastructure
Designing Water-Friendly Communities
Greener Spaces, Healthier Water
Green infrastructure helps make our homes, neighborhoods, businesses, and communities healthier and more environmentally-friendly! From permeable surfaces to rain gardens, these proven strategies can reduce flooding, capture pollution, support pollinators, and so much more. Whether you're a hobby gardener or a city planner, you can use green practices to make a difference.
Pictured: A bioswale outside Lilly Center for Lakes & Streams. Photo: Rucel Martinez
What is green infrastructure?
"Green infrastructure" refers to a set of planning and design practices that aim to meet both economic and environmental sustainability goals. These strategies are an alternative to traditional "gray infrastructure," which relies heavily on man-made materials, impermeable surfaces like concrete and asphalt, and underground stormwater management systems. When stormwater falls on those impermeable surfaces, much of it runs off onto the surrounding landscape and into local waterways, carrying pollution with it. And when underground stormwater management systems can't cope with heavy rain, flooding occurs.
Green infrastructure relies on plant and soil systems, permeable surfaces, and techniques like stormwater harvest and reuse. While gray infrastructure disrupts the water cycle, green infrastructure uses natural materials and processes to mimic the water cycle and manage rainwater effectively.
These practices can be incorporated into existing streets, parking lots, buildings, and parks. They can also be used in residential and city planning and development. When done well, green infrastructure is often more cost-effective and low-maintenance than traditional gray infrastructure. It also offers an incredible array of benefits, including increased wildlife habitat, improved air and water quality, cooler urban settings, higher property values, and so much more.
Stay tuned for upcoming workshops!
Here's a link to a recording of our recent Green Infrastructure Workshop:
To learn more about how green infrastructure works, check out these helpful links!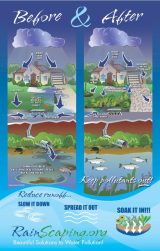 A graphic showing stormwater management with green infrastructure. Click for full PDF.
What Green Looks Like
Here are a few key practices, how they work, and where to find them locally.
Can you spot green infrastructure in your community?
Pervious Pavers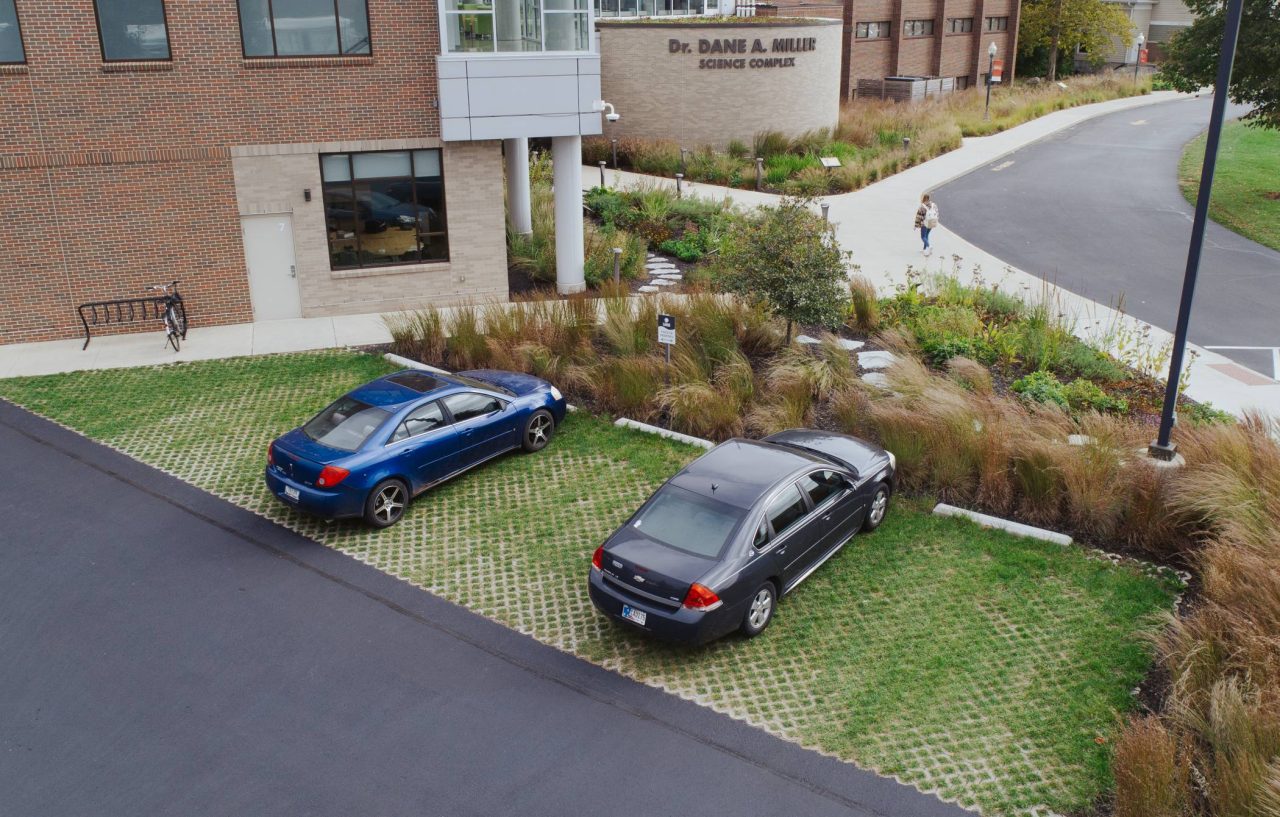 Pervious (or permeable) pavers allow water to infiltrate the soil where it falls. This practice helps combat flooding and icing, among other issues.
Where to See It: outside the Lilly Center for Lakes & Streams (pictured) and in the parking area beside LetterWood, both in Winona Lake. Photo credit: Rucel Martinez, LCLS
Rain Gardens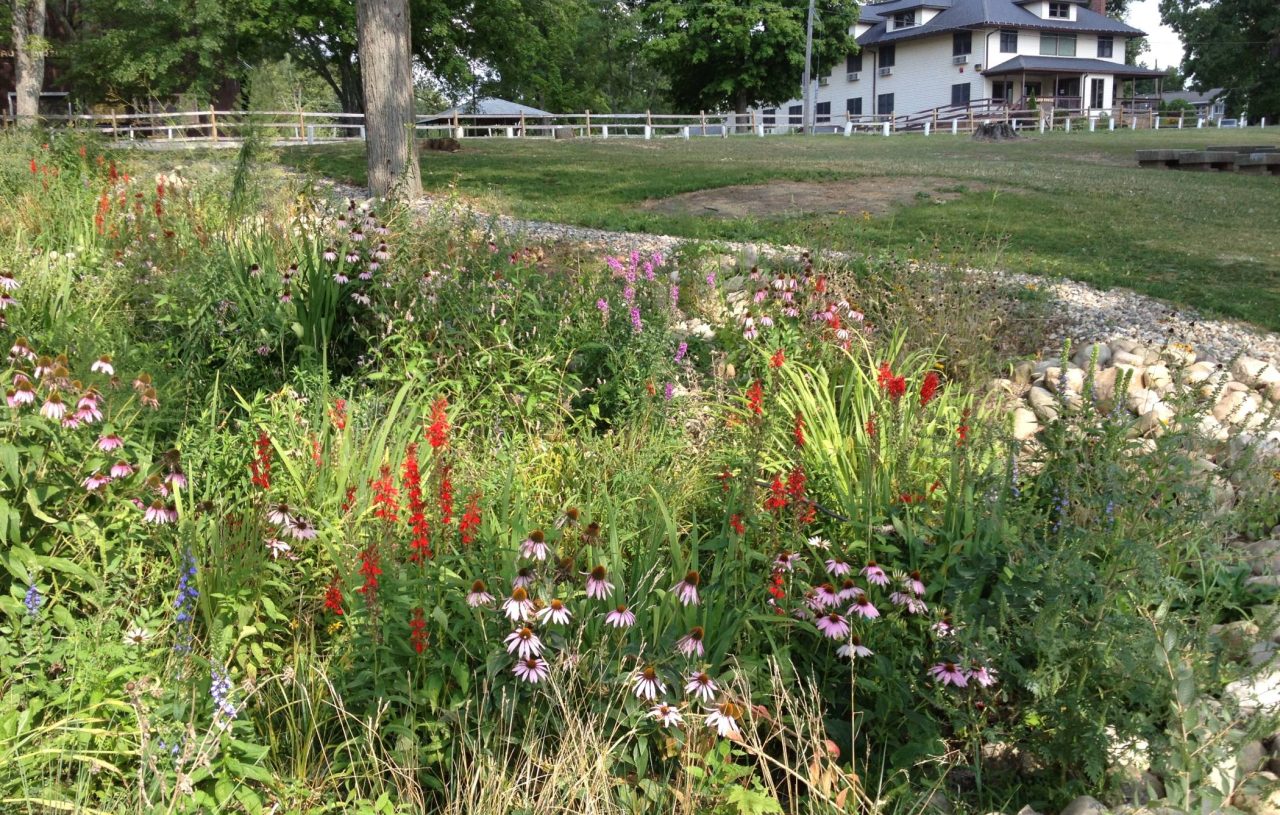 Rain gardens are small, sunken plantings that collect stormwater runoff from roofs, streets, and sidewalks. They help filter and absorb water, reducing pollution and flooding.
Where to See It: outside the Lilly Center for Lakes & Streams (Winona Lake) and beside The Beach House at Epworth Forest Conference Center (pictured, North Webster).
Bioswales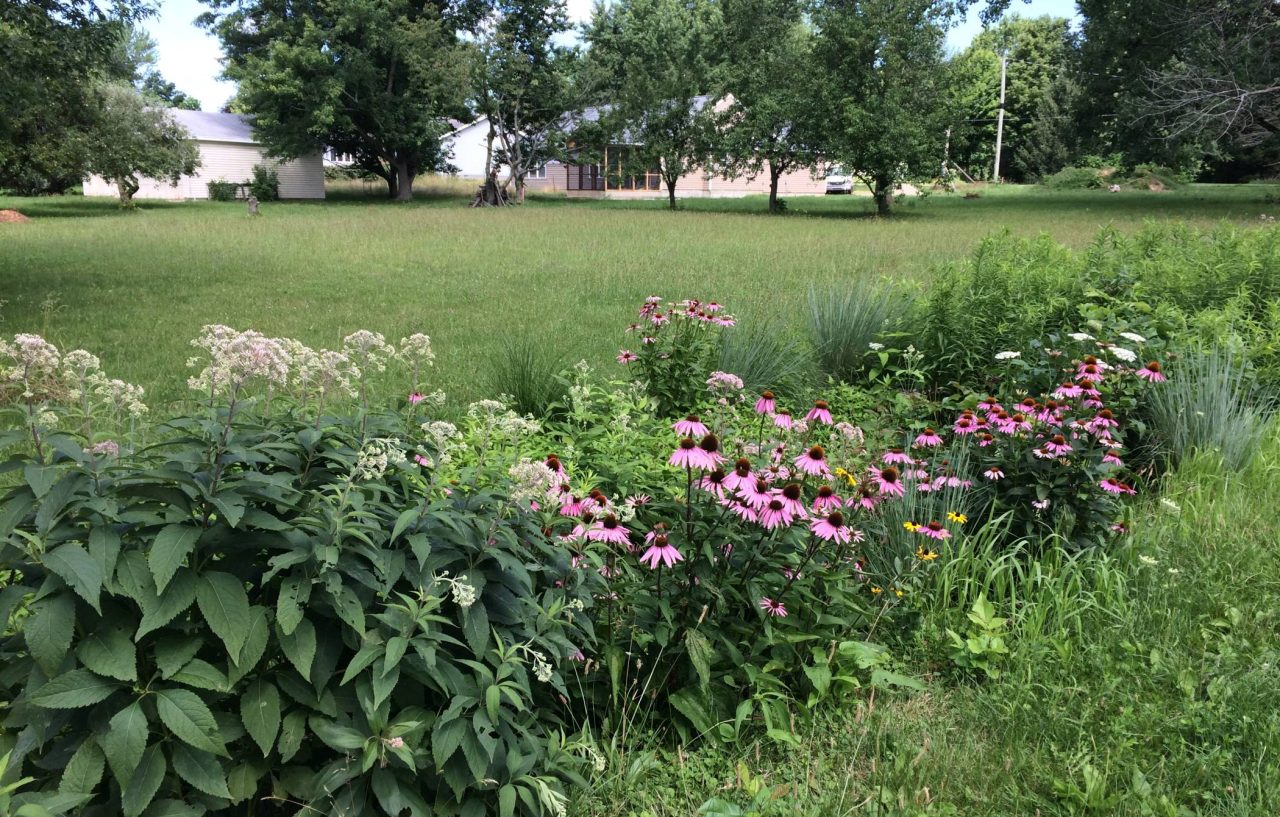 Bioswales are often found along ditches, curbs, or parking lots. They use vegetation, ideally native plants, to slow, filter, and absorb stormwater runoff from nearby streets and lots.
Where to See It: outside the Lilly Center for Lakes & Streams (Winona Lake) and in the Bell Rohr neighborhood of Lake Tippecanoe (pictured, Leesburg).
Lawn Conversion
Lawns can be transformed into prairies or wetlands by replacing mowed areas with native plants. This cuts carbon emissions, reduces pollution and flooding, and supports pollinators.
Where to See It: Zimmer Biomet's Native Prairie and Basin Project (pictured, Warsaw) and next to the former Bart's Watersports store (North Webster).
Learn More