Walt Hessler named ILMS Volunteer of the Year
Tuesday, April 4, 2023
Posted by: TWF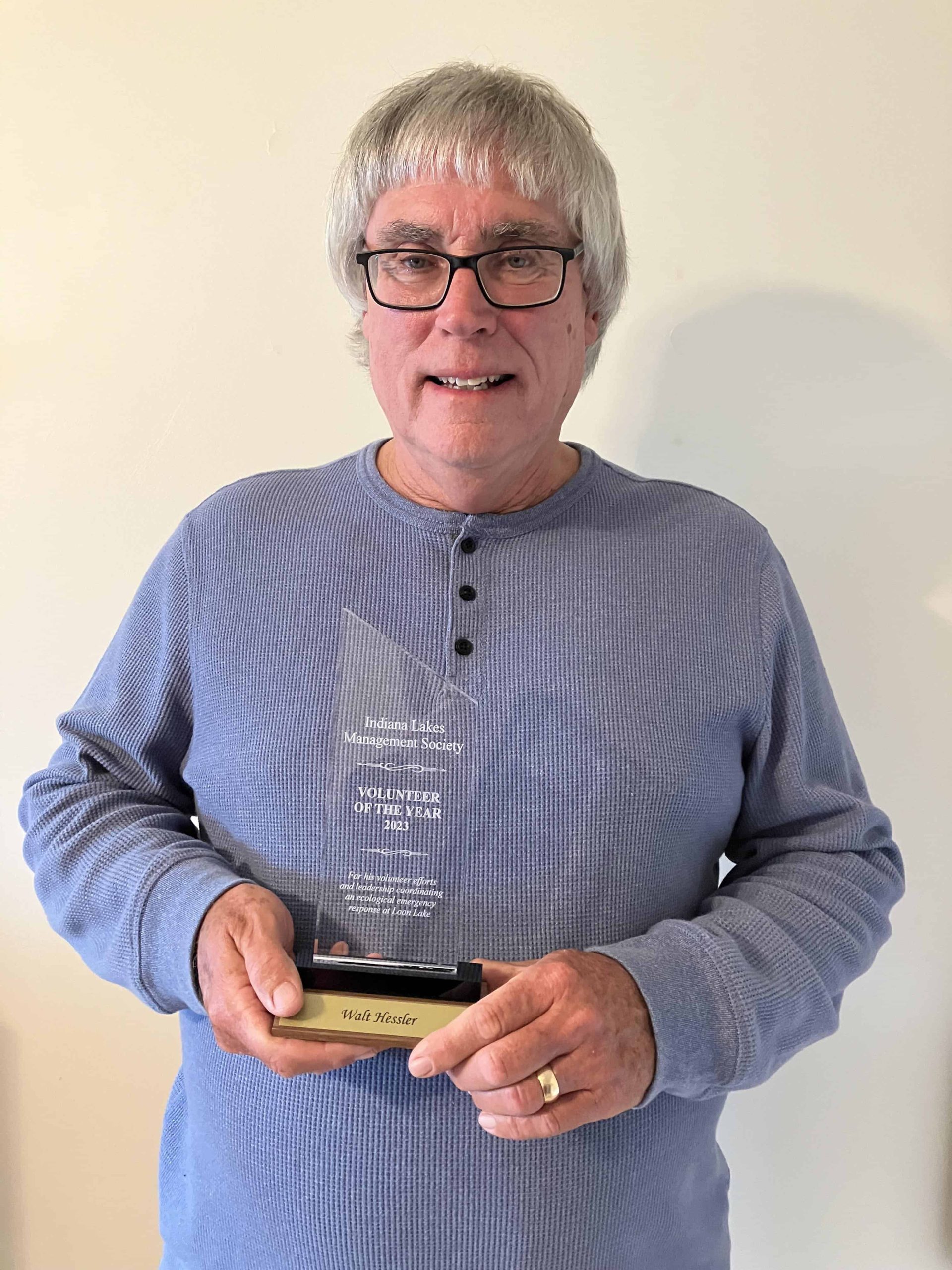 Walt Hessler, a resident of Loon Lake and a member of The Watershed Foundation board of directors, was selected as the Indiana Lakes Management Society's Volunteer of the Year during their annual meeting in early March in Bloomington.
Hessler was nominated for the award by a neighbor in recognition of his work during last summer's fish kill at the lake. The Indiana DNR would later determine the fish kill, similar to other fish kills that happened in other area lakes, was the result of a strange anomaly – a combination of bad weather, weather-related stress on a specific species of the fish population and a fish-centric virus that was only lethal when the fish were stressed.
But, before all that, there was fear and uncertainty.
In the twilight hours of June 13, 2022, a massive derecho storm wreaked havoc on the Loon Lake community, located in the Upper Tippecanoe Watershed. Although initial weather reports seemed somewhat concerning, Loon Lake residents were surprised by the extent of the damage when the storm cleared that night. Massive trees were torn from their roots and many homes sustained significant damage. Roads to the community were blocked in many directions by fallen timbers and residents lost power for days. The immediate damage from the storm was terrible, but the real horror from the storm was still looming.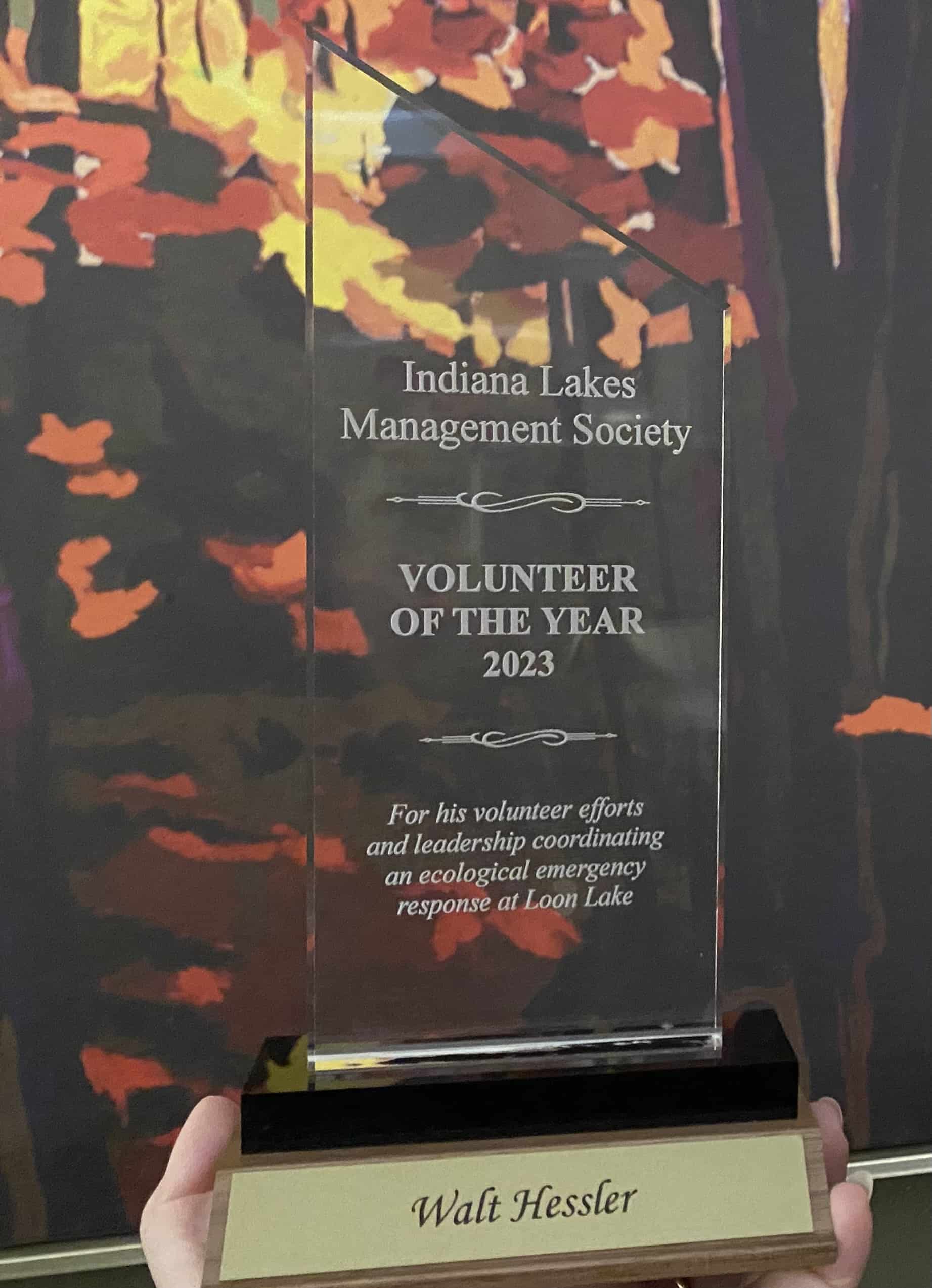 Within several hours of the storm and its wild temperature fluctuation, residents began noticing dead crappie floating along the shores of the lake. Immediately, Hessler, a longtime Loon Lake resident, sprung to action. He immediately reached out to the Indiana DNR and also to The Watershed Foundation. Walt was eager to find answers and guidance on what to do.
At first, it was just a few dead fish, but within days, there were scores of dead fish lining the shores around the lake — all similar in size, all crappies. The dead fish were so plentiful, their bloating bodies could be found encircling the entire lake and were several feet wide in some areas. At the same time neighbors were trying to cope with life without electricity, extreme heat, food scarcity because of the widespread power outages from the storm and cleaning up storm damage — the dead fish were beginning to smell…BAD.
Through all of it, however, Walt was continuously at work looking for information and solutions. Hessler made arrangements with a local farmer to dig trenches away from the lake and coordinated with residents to bring their dead fish by the bucket and barrels-full to the farm where they would be buried. Neighbors supported neighbors, helping to carry away the rotting fish. Walt also coordinated teams of volunteers to work from the water to remove dead fish from areas where homeowners were not present or unable to get them. Hessler also kept a steady line of communication open with residents — providing social media updates and emails, sometimes several times a day, to update our community on what was happening and what needed to be done with regards to the fish and cleanup operations.
Without Hessler's active, thoughtful leadership, the outcome could have been much different. Because of him, key stakeholders were looped in early, residents were engaged in positive action and the lake was cleaned up quickly, with a reduced impact on community health and overall enjoyment of the lake. He did everything within his power to keep everyone connected, informed and actively working together, exemplifying the ideals of leadership in a crisis situation. No one asked Hessler to do this – he just stepped up and did it, for the betterment of his community and for his love of Loon Lake.
"We are absolutely delighted that Walt was chosen for this award," said The Watershed Foundation executive director Lyn Crighton. "Throughout the disaster at Loon Lake, Walt was continually in touch with us and with others looking for good information about what to do. Walt has also been a great volunteer for Loon Lake and for The Watershed Foundation for quite some time now, sharing his time to help monitor water quality and serve as an ambassador of his lake community. We are thankful for him and proud to see that he was selected as the ILMS Volunteer of the Year."
Hessler is the third TWF board member and the second Loon Lake resident to be a recipient of the award. Past TWF board members Bob Smith and Jane Loomis were both previous ILMS volunteer of the year recipients. Loomis is also a former resident of Loon & Old Lakes in Whitley County.