Lessons From Six Decades of Farming
Friday, June 25, 2021
Posted by: TWF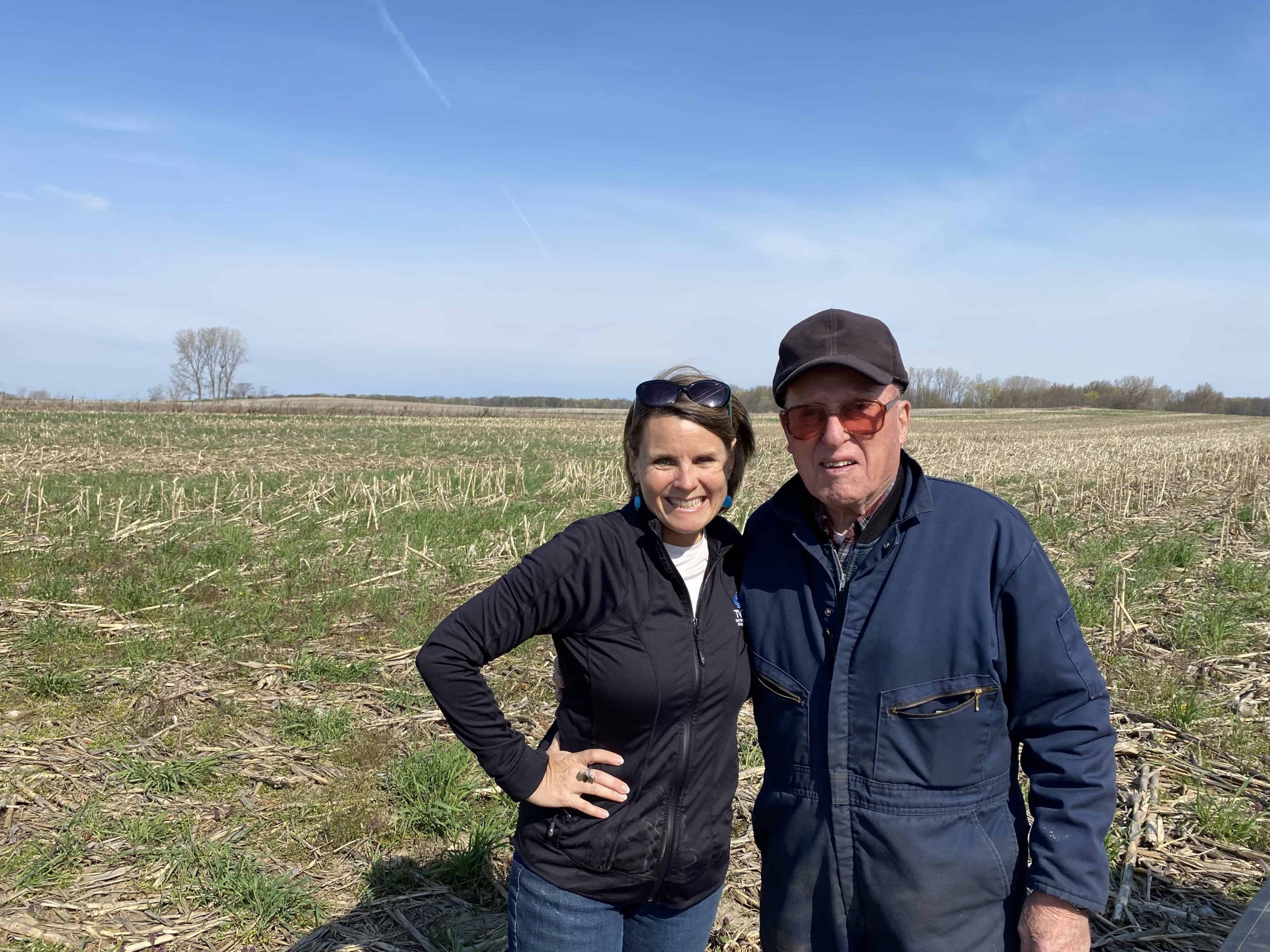 Sherman Bryant's roots run deep in the local agricultural community. Born in 1928, "Sherm" grew up on his family's farm near Pierceton. "We didn't have tractors when I was a kid," he remembers. "We had horses."
After serving in the Air Force, Sherm returned to northern Indiana in the early 50s to begin a family with his wife, Colleen, and a career with Farm Bureau Insurance. The Bryants built a house on Lake Tippecanoe, where they lived for several years. Then in 1961, they traded their lake home for a century-old farmhouse and 60 acres on a quiet stretch of country road northeast of Tippy.
That was the beginning of a farming career that spanned nearly six decades.
Over the years, the Bryants raised hogs and beef cattle and produced commercial crops like corn and soybeans, and their farm grew to encompass 227 acres. As farming practices evolved, Sherm was often quick to adopt new tools and techniques that promoted soil and water health. "I kinda did things early," he admits. In the 1980s, Sherm began using no-till practices and planting cover crops like rye and winter wheat. He was the first farmer in the county to participate in "T-by-2000," an early state initiative to address erosion issues. Gradually, he installed drainage tiles, water and sediment control basins, and grassed waterways in his fields. By 2014, Sherm had transitioned entirely to a no-till approach.
These conservation practices are designed to capture and control the flow of water, reduce erosion, and prevent excess nutrients from reaching nearby lakes and streams. "I just can't stand erosion because of what it does to your land," Sherm says. "You're trying to farm over washouts, and then it's going into the lake."
Sherm wants to leave his land better than he found it, but decades of experience have convinced him these efforts also make good business sense. Grassed waterways, for example, help mitigate heavy rainfall, which can damage crops, reducing yields and profit. He points out that a no-till approach saves time and resources, too, not just soil structure. No-till allows a farmer to wait until the ground is genuinely ready to be planted.
Sherm retired from farming in 2018, at age 90. These days, other farmers lease his fields. Still, Sherm continues to implement conservation projects on his land with guidance and cost-sharing opportunities through The Watershed Foundation and partner organizations such as the Kosciusko County Soil and Water Conservation District. In 2019, the Indiana Association of Soil and Water Conservation Districts honored Sherm with the River-Friendly Farmer Award for his outstanding land-management efforts.
Now 93, Sherm reflects on his extraordinary life and career. From horses to tractors, from moldboard and chisel plows to no-till and cover cropping, Sherm has witnessed tremendous change in agriculture, and he has been a change-maker himself. "I started later than most guys," he says–but he lasted longer. Now he reckons his decision to keep farming has helped give him a good, long life as well.
The Watershed Foundation is grateful to Sherm for his conservation leadership and his decades of support! We're honored to continue working with him for healthy soils and clean water.
To learn more about healthy soil initiatives throughout our watershed, including projects completed on the Bryant farm, visit https://healthysoilscleanwater.org/.