A Love of Lakes Inspires the Kitt Family
Tuesday, June 6, 2023
Posted by: TWF
Ethan, Eli, Evan, and Elayna Kitt – known around the lake as the "Kitt Kids" and "The E's" – have spent every summer at Lake Tippecanoe since 2001, when their parents, Tyler and Brittany, first rented a house on Willow Bend. Soon they found the tiny cottage on Lansing Bay that would become their summer home, eventually purchasing the place in 2012. That "cozy" little house was a tight squeeze for a family of six, with four kids sharing two bunk beds in one tiny room. But it brought them together. Though the Kitts now own other properties on or near Tippy, the cottage remains home in many ways.
"The lake was sacred," says Brittany. "It was our downtime. It's how we connected. We were so busy. But we could take time out of all that and just breathe for a minute."
"It was a special place for us," agrees Elayna. "I owe my close relationships with my brothers and family to the cottage and the lake."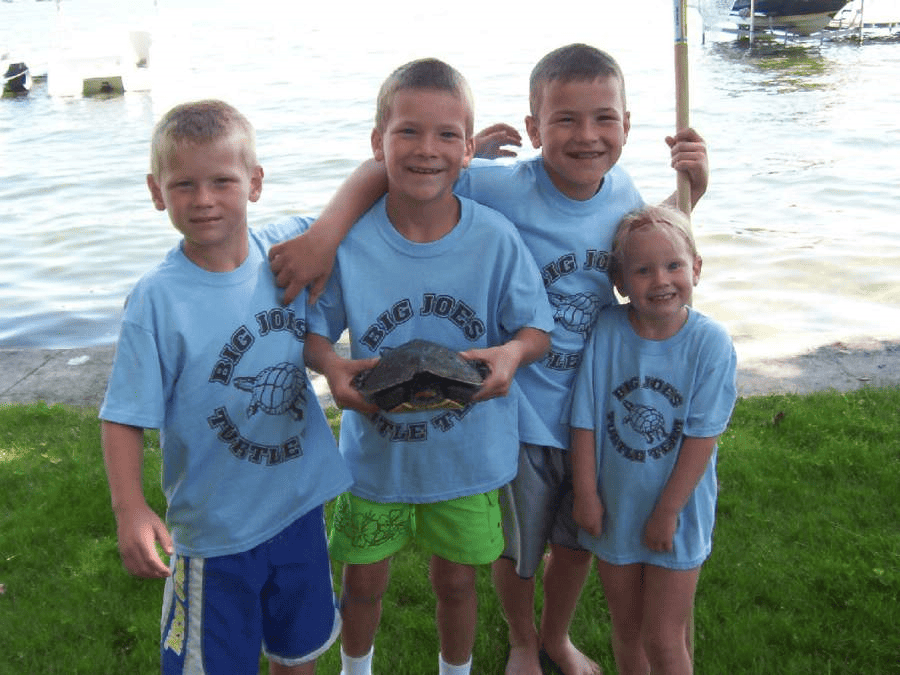 The four siblings spent their summers having fun – a lot of fun. They explored together in a johnboat. They swam, fished, caught turtles, and "surfed" on a boogie board tied to the back of a wave runner. They made friends who became as close as family.
But the Kitt Kids also spent their summers caring for the lake itself. Around 2009, they began working for neighbors, mowing, landscaping, and raking weeds out of the lake. Word spread, and their little business grew to serve about 75 properties around Tippecanoe, Chapman, and Barbee Lakes. They traded wheelbarrows for garden tractors, a van and trailer, and finally a truck. When friends came to visit, they were expected to help too.
"It was really important to Mom and Dad that we weren't just enjoying it without having skin in the game," remembers Ethan. "Before you could play in the lake, you had to work for the lake."
Ten years of hard work helped put the kids through college, but their shared summer job gave them more than an income. It connected them to a caring community and to lake stewards like the Tynan family, long-time TWF supporters, and Lyn Crighton, TWF executive director. Through their work and relationships, the kids developed a deeper understanding and appreciation for the ecology of Lake Tippecanoe – and a growing concern for its future.
Over the years, they helped with cleanup days and water monitoring, and they worked the docks for several Cottage Tours, donating their tips back to TWF. They spread the word about the importance of lake health. And summer after summer, they continued to rake aquatic weeds. Eli reflects on their efforts: "I sometimes wonder what the lake would look like if we hadn't done weeds all those years."
The Kitt Kids are adults now, and it's clear that growing up on Tippecanoe has shaped who they've become, from the subjects they've studied to the careers they've chosen to the way they spend their time. They still maintain close relationships with many of the neighbors they worked for, and as they enjoy the lake, they pay attention to signs of its health or decline, like ice caps and oxygenated water, invasive weeds and algae blooms.
For the Kitts, lake life has always been about "lake love": their relationships with each other, with their community, and with the lake itself. And lake love inspires them to give back in any way they can, including supporting TWF – together, as a family.
"If we're going to have the cottage in our family forever," says Ethan, "then we want to make sure that our kids someday can enjoy the experiences we had or even make it better."
The Kitts believe it's impossible to give back what they've received from the lake.
"But if we can give, as a family, even some small token to demonstrate the importance of it, then that's enough for us."
Thanks to the Kitt family for their generosity and for spreading the lake love!